Radicalization Pipeline
2021, HD video
Sound by Diego Navarro
Two seemingly endless hordes clash into a violent free-for-all, swinging large melee weapons and shouting with distorted voices. A wide range of characters – from citizen militias to fantastical creatures – enter the screen only to kill each other, wave after wave, sinking their virtual bodies slowly into a muddy landscape. The mood occasionally lightens up by the medieval covers of familiar pop songs that complete the soundscape conceived by the composer and sound designer Diego Navarro. Looking at phenomena such as the rise of QAnon, the artist suggests connections between gamification, fantasy, and political radicalization.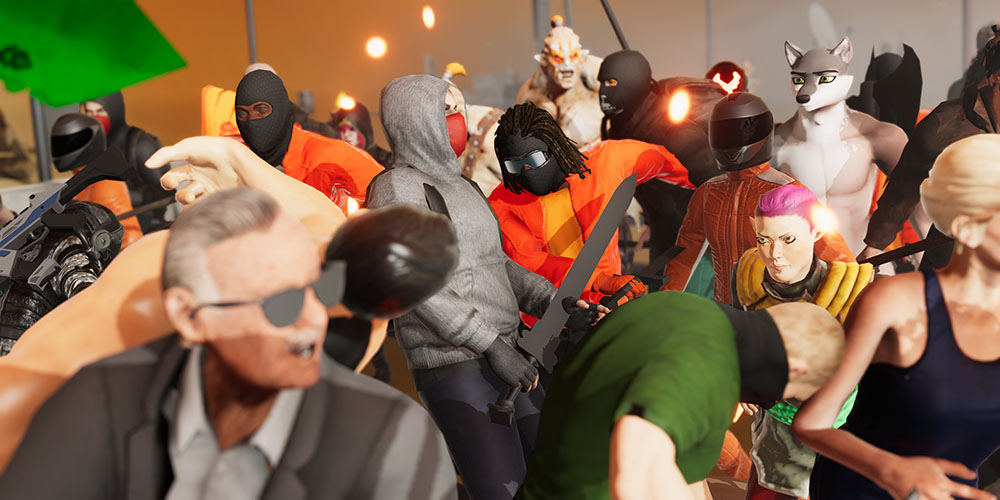 Teo Triantafilidis
Kurss uz radikalizāciju
2021, HD video
Djego Navaro audio
Divi šķietami nebeidzami cilvēku pūļi saduras nežēlīgā, nekontrolētā sadursmē, vicinot ieročus un kliedzot izkropļotās balsīs. Daudz dažādu tēlu – no militāristiem līdz fantastiskām būtnēm – cenšas viens otru nogalināt, viens vilnis pēc otra, viņu virtuālajiem ķermeņiem lēnām grimstot dubļainajā vidē. Noskaņu ik pa brīdim uzlabo komponista un skaņas dizainera Djego Navaro veidotie pazīstamu popdziesmu viduslaicīgie izpildījumi, papildinot skaņas ainavu. Novērojot tādus fenomenus kā QAnon konspirāciju teorijas popularizēšanās, mākslinieks izvirza hipotēzi, ka pastāv saistība starp video spēļu lietošanas izplatību, fantāziju un politisko radikalizāciju.
Darba izstādīšanu atbalsta / With support of: