Neural Decay_3174, Neural Decay_6117, Neural Decay_756, Neural Decay_4257
2017, inkjet prints on brushed stainless steel
Neural Decay is a series of unique prints generated by custom-trained generative adversarial networks (GANs). Reminiscent of miniatures or early studio photographs, these machine-generated portraits have an otherworldly quality. Large round eyes stare out from mask-like faces, while the image textures and metal surfaces allude to the passing of time. They appear to be headshots from a bygone age, yet the characters portrayed are perhaps not quite human. Neural Decay is an example of what Klingemann refers to as "Neuralism," art created using artificial neural networks.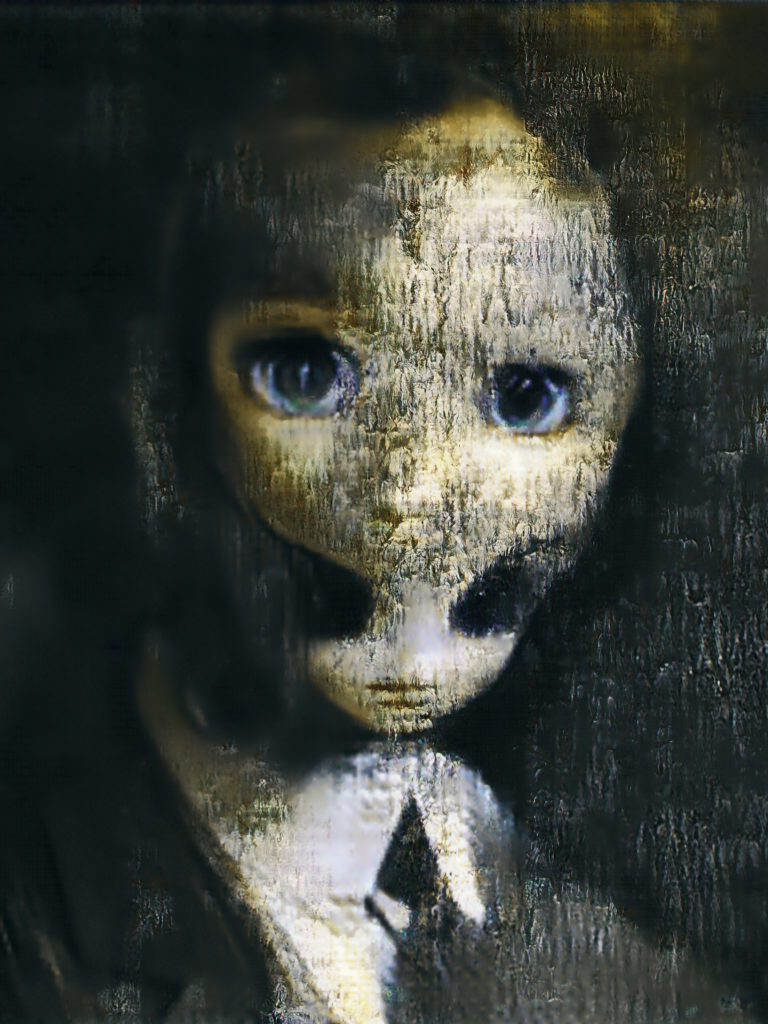 Mario Klingemans
Nervu sabrukums_3174, Nervu sabrukums_6117, Nervu sabrukums_756, Nervu sabrukums_4257
2017, tintes druka uz matēta nerūsējošā tērauda
Nervu sabrukums ir attēlu izdruku sērija, kas ir ģenerēti ar ģeneratīvo konkurējošo tīklu (GAN) palīdzību. Atgādinot miniatūras vai arī agrīnās fotogrāfijas, mašīnu-ģenerētajiem portretiem piemīt pārpasaulīgs izskats. Lielas, apaļas acis cieši lūkojas no maskveidīgām sejām, kamēr attēlu tekstūra un metāliskā virsma ļauj nojaust aizgājušā laika ritumu. Attēli līdzinās portretiem no senaizgājušiem laikiem, kuru tēli atgādina cilvēkus, tiem pilnībā vēl nelīdzinoties. Nervu sabrukums ir piemērs mākslas virzienam, ko mākslinieks dēvē par  "neirālismu" – māksla, kas ir radīta izmantojot mākslīgus neironu tīklus.